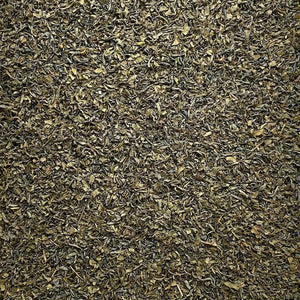 Please note: This tea is grown in accordance with USDA organic specifications, but due to new documentation requirements from the CFIA, we were unable to have the tea certified in North America. As such, this tea is being sold as conventional with a hefty discount.

About
A simple pleasure offering bold up-front flavour, with some astringency soon followed by a pleasant sweetness. 
When you want an everyday green tea to sip on, consider this an excellent option! 

Origin & History
Chao Qing (炒青) is a generic term for the most common process to create green tea: pan-firing.
Millions of people in Asia favour this humble, healthy brew as their everyday drink.

This particular batch is processed as 'chun mee' (a famous style in Jiangxi) and farmed organically in the hills of  Central Hunan Province. 

Recommendations

Tea:

 4

g / 1 tbsp
Water:

 

240ml / 1 cup 
Temperature: 

 75

°C / 167°F



Steep: 180 seconds