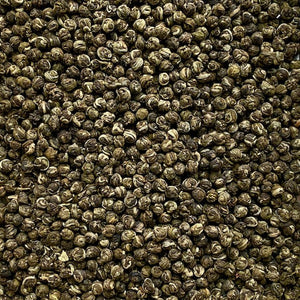 About 
These beautiful, hand-rolled green tea pearls are scented with jasmine over three nights (when the blossoms are most fragrant) using the traditional method (more on that below). The pearls feature bright floral notes and minimal astringency. 

Origin & History
Jasmine tea is one of the most highly prized treats in Northern China and (of course), Fujian Province in particular. This fragrant brew is, however, not easy to handcraft.
These jasmine pearls are crafted using the traditional method:
First, the organic, early spring tea leaves are carefully processed into green tea. They are lightly steamed to prevent oxidization, then gently rolled into beautiful 'pearls' to be carefully stored until the late summer harvest of jasmine blossoms. 
Once the jasmine blossoms are ready, they are blended and piled together with the tea leaves and left overnight, allowing the delicate flavour of the jasmine to scent the leaves. This process is repeated until the tea artisan is satisfied with the aroma of the tea.
Origin: Guangxi, China
Recommendations 

Tea:

 3

g / 1 tbsp
Water:

 

240ml / 1 cup 
Temperature: 

 80

°C / 176°F



Steep: 210 seconds