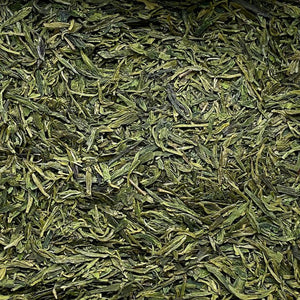 About 
This is an early spring harvest of beautiful hand-picked, hand-produced, organic green tea. 
It features a rich, nutty flavour and yields a clear, yellow-green infusion. 
Origin & History 
Dragon Well or Long Jing (龙井 in simplified Chinese |  龍井 in traditional Chinese) is one of the most famous styles of green tea in China. It originated in Hangzhou's West Lake region, in today's Zhejiang Province, China.

There are two cultivars used for the vast majority of this tea: 
"Bendi" (or native) is the oldest, heirloom cultivar
"43" is a younger cultivar, developed in the latter part of the 20th century, and is commonly used to improve yields. 
This particular batch of Dragon Well tea comes from the fabled Yellow Mountain, in Anhui province. They are using Bendi cultivar in a pristine tea garden, which yielded the best value-for-money (aroma, taste & environmental stewardship) among all the Dragon Well samples that we tried this year.

We chose this origin because it is much farther than West Lake from major urban developments, and because these particular growers have been supplying us with delicious, organically grown tea for over 10 years. 
Recommendations 

Tea: 4g / 1 tbsp
Water: 240ml / 1 cup 
Temperature: 

75°C / 167°F



Steep: 220 seconds