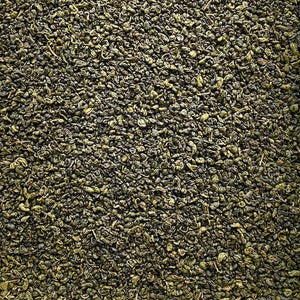 About
Our Organic Premium Gunpowder is the quintessential example of classic Chinese green tea: Intense, bold, and in-your-face.

Known as 'gunpowder' in the West because the rolled tea leaves resemble powder pellets, it is called 珠茶 (Zhu Cha, literally translated as 'pearl tea') in China.
History & Origin
Production of gunpowder green tea reportedly started in the Tang Dynasty. The handcrafting method differs from other Chinese pan-fired green teas as 'gunpowder' is slightly withered, steamed, rolled, and dried. 

The steaming step is unconventional for pan-fired green teas (typically you'll see only one of either steaming or pan-firing), but this additional step creates a bolder, in-your-face green tea that is ideal to wake up with. 

This batch of tea was farmed organically in the hills of Central Hunan Province. 
Recommendations 

Tea:

 3

g / 1 tbsp
Water:

 

240ml / 1 cup 
Temperature: 

 80

°C / 176°F



Steep: 220 seconds